Shea butter can be used as a moisturizer and hair conditioner for dry hair, dry scalp and dandruff.
Shea butter is a slightly yellowish or ivory-colored fat that is widely used in cosmetics as a moisturizer, salve or lotion. The main use of shea butter is for skin care. But it also can be used for hair care. Shea butter are rich in triglycerides and unsaponifiables. It contains Karisterols, Parkeol, Lupeol, Butryospermol, Katitene and cinnamic esters, which have excellent anti-aging, soothing and moisturizing properties for hair care. It helps improving hair texture, increasing hair moisture and stimulating hair growth.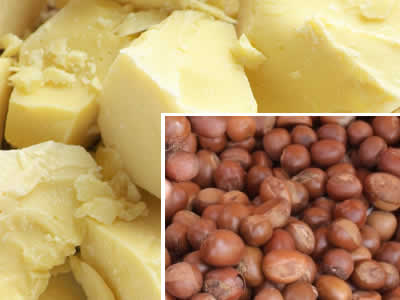 Shea butter is beneficial to dry hair. It can be used as a hair dressing and hair conditioner to moisturize dry hair and dry scalp, stimulate hair growth and help to hold the hair style. It provides benefits for dry and or brittle hair, and the moisturizing properties also benefits the scalp.
How to use shea butter for hair care
– Wash your hair with lukewarm water and towel dry
– Apply a small amount of unrefined shea butter on your hair
– Gently massage it into your hair and your scalp
– Wrap with a warm towel for 30-40 minutes
– Remove the towel, and style your hair as usual
– Do it once a week
– Please note, do not apply too much shea butter on your hair
There are unrefined shea butter and refined shea butter in the market. Unrefined shea butter is extracted in the traditional process using water and done by hand. Unrefined shea butter has a natural nutty smell and contains many of the natural restorative properties. If you cannot tolerate the smell, purchase and use refined shea butter, which is nearly odorless but some of natural properties may be removed in the chemically extracting process. Please note, if an unrefined shea butter has no smell, it is likely old, the smell is lost over time. When shea butter ages, it loses its healing qualities and effects.
For more information about natural remedies for hair care, go to Natural Remedies Center: http://www.naturalremediescenter.com/treat/hair-care/
Please note:
Any articles on this website are only for informational and research purposes. You should first consult your physician before taking any natural remedies, health supplements, herbal medicines, food therapies or alternative cures discussed here for your health treatment. [More about
Terms of Use
...]