Black currant oil can be used for skin and hair care.
Black currant oil is a light yellowish oil with original smell. It contains fatty acids, rutin and other flavonoids, and is rich in vitamin C.
Black currant oil is used for the maintenance of skin health and contained in a variety of cosmetics. It repairs skin tissue damage caused by sun and loss of water, rejuvenates and revives mature skin, reduces the formation of wrinkles.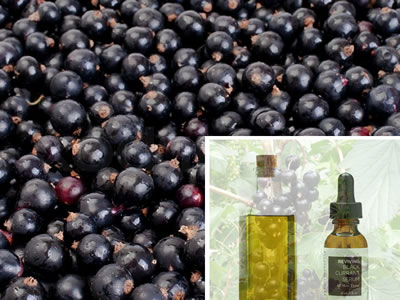 Black currant oil can be taken orally or used externally. When taken orally, black currant oil can treat chronic inflammatory skin problems like eczema and psoriasis. You can also apply a thin coat of black currant oil to the skin of your face and neck in morning and night. This treats itchy, dry and flaky skin due to loss of water and fatty acid deficiency.
Black currant oil is also said to be effective for weak and brittle nails, and dry, brittle, splitting and thinning hair.
Black currant oil can be found in a health supplement store. It is sold in forms of capsules or syrup.
Please note, black currant might slow blood clotting. It might increase the risk in people with bleeding disorders. Be sure to follow the directions on product labels and consult your doctor before using this remedy.
Read more information about natural remedies for skin care.
Please note:
Any articles on this website are only for informational and research purposes. You should first consult your physician before taking any natural remedies, health supplements, herbal medicines, food therapies or alternative cures discussed here for your health treatment. [More about
Terms of Use
...]