Mutton soup is a wonderful winter remedy. If you suffer from cold with runny nose, chronic bronchitis, cold type asthma, frequent urination, and impotence or lower back pain or abdominal Pain or leg pain due to coldness, then this mutton soup can help relieve the symptoms?
Mutton has excellent warming properties. If you do not have "hot" disease, then this mutton soup is a good winter tonic to warm your body and expel coldness?
How to make a Mutton Soup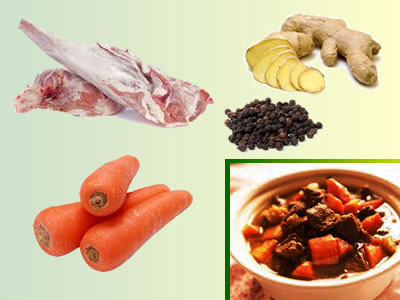 Ingredients:
– Mutton 500g
– Carrot 100g (optional)
– Ginger 3 slices
– Water 4 cups
– Salt 1/2 teaspoon (according to taste)
– Black pepper powder 1/4-1/2 teaspoon
Directions
– Cut mutton and carrots into 1-inch cubes
– Put mutton, carrots, ginger and water into a pot
– Bring to a boil and simmer for 45 minutes
– Add salt and black pepper, simmer for 2-3 more minutes
– Turn off the head and serve
Please note, mutton soup is a good winter warming tonic. You should not consume it in summer, nor if you have any type of "hot" disease, such as inflammation, ulcers, toothache, red eyes, dryness, etc.
Carrot in the recipe is to balance the warming and drying properties of mutton, because carrot has mild cooling and moisturizing properties. If your body is too "cold" and too "wet", you can remove or reduce carrots.
For more information about winter remedies, go to Natural Remedies Center: http://www.naturalremediescenter.com/treat/winter-remedies/
Please note:
Any articles on this website are only for informational and research purposes. You should first consult your physician before taking any natural remedies, health supplements, herbal medicines, food therapies or alternative cures discussed here for your health treatment. [More about
Terms of Use
...]