Baking soda can be used for treating acne. Baking soda is a common cooking ingredient that most people have in their kitchens. If you do not have it, you can get it from a grocery store.
How to use baking soda to treat acne
It is easy to use baking soda to treat acne. Here is how to do it:
– Wash your face with water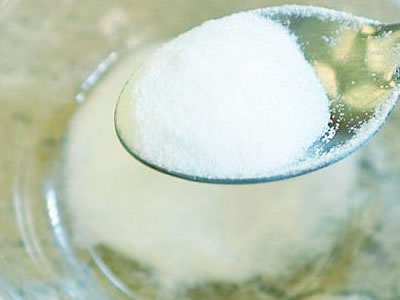 – Mix some baking soda with a small amount of water to make a paste
– Apply the mixture to the affected area of your face, and leave on for 10 minutes
– Rinse off with water
Why baking soda can treat acne? As you may know that, acne is usually related to oily conditions of the skin. Baking soda has a effect to remove oil from the skin, therefore can treat acne. Just like you can use baking soda to remove grease (fat, thick oil or viscous substance) in your kitchen, you can also use it to remove oil from your face.
Please note:
If you have a sensitive skin, baking soda may burn your face. To avoid this, you should try this remedy by applying a small amount of the mixture to your face. If not sensitive, then you can safely use it.
If your skin is dry, do not use baking soda, because baking soda has drying properties.
For more information about natural remedies for acne, go to Natural Remedies Center: http://www.naturalremediescenter.com/treat/acne/
Please note:
Any articles on this website are only for informational and research purposes. You should first consult your physician before taking any natural remedies, health supplements, herbal medicines, food therapies or alternative cures discussed here for your health treatment. [More about
Terms of Use
...]