Arrowroot is a plant that is native to Caribbean islands and Central America. Today arrowroot powder is mainly used as a starch for cooking like corn starch or potato starch.
Arrowroot powder is useful in aiding digestion and regulating bowel movement. It has both soothing and nourishing properties. Arrowroot powder can be used as an easily digested food for infants, patients and elderlies who have weak and poor digestion and bowel complaints or have dietary restrictions. Arrowroot powder reduces diarrhea and relieves irritable bowel syndrome. And It is also an effective antidote for vegetable poisons.
Arrowroot powder is a good food for weaning infants. You can mix arrowroot powder with water to prepare a thick paste and use it for a weaning infant.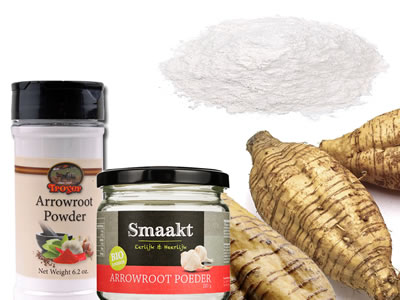 How to make arrowroot paste for weaning infants, poor digestion, diarrhea and irritable bowel syndrome
– Arrowroot powder 2 teaspoons
– Sugar 1-2 teaspoons
– Water 1 cup
– Mix them in a pot
– Heat the pot on a stove in low heat
– Stir it till it thickens
– Remove from the stove
– Serve while warm
Arrowroot powder is safe to eat. Instead of boiling in water, it may be boiled in milk.
Please note, arrowroot has mild effects to help treat poor digestion, diarrhea and irritable bowel syndrome. Basically, it is a food, not a medicine. If you suffer from a serious diarrhea, you should seek medical care.
For more information about natural remedies for children, go to Natural Remedies Center: http://www.naturalremediescenter.com/treat/remedies-for-children/
Please note:
Any articles on this website are only for informational and research purposes. You should first consult your physician before taking any natural remedies, health supplements, herbal medicines, food therapies or alternative cures discussed here for your health treatment. [More about
Terms of Use
...]