Barberry (Berberis) is used to help treat urinary tract infection, nephritis, vaginal discharge and metrorrhagia.
Barberry contains a number of active substances, including berberine, berbamine, oxyacantha and tanines. Barberry is haemostatic, diuretic, vasodilator, hypertensive, antibacterial and anti-inflammatory, thus it can be used in controlling different illnesses associated with the symptoms of excess heat, fever, bleeding, infection, fluid retention, etc. Barberry is a cooling and bitter herb. According to traditional Chinese medicine, a cooling and bitter herb usually has effects to reduce heat, fever, bleeding, discharge and water retention.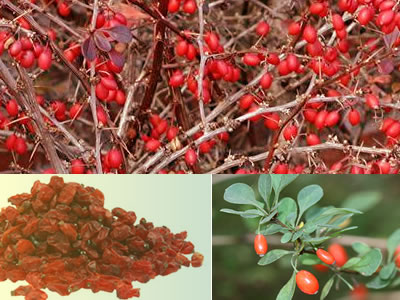 Barberry can be used alone or combine with other herbs. Raw barberry bark is sold in herbal stores.
Barberry decoction for urinary tract infection:
– Dried barberry bark 15g
– Water 1 cup
– Boil and simmer it to make a decoction
– Drink it twice a day
Barberry tincture for nephritis and the kidney problems:
– Dried barberry bark 100g
– Alcohol 35%-50% (Spirit, Vodka, Arak, Gin, or Rum) 1000ml
– Put barberry bark and alcohol in a container, tighten the cap
– Leave it for 10 days
– Drink 20-50ml, twice a day
Barberry powder for nephritis:
– Equal parts of dong qing ye, barberry and licorice
– Soak them in alcohol for two days
– Dry the herbs in the sun
– Make them into a powder
– Take 10g, twice a day
Today barberry is also sold in forms of capsules, fluid extracts, tinctures, and tea. Barberry extracts are standardized to contain 8 – 12% alkaloids (berberine). Please follow the instruction of the product.
Please consult a doctor before using barberry. If you suffer from a serious health problem, you should seek medical care.
For more information about natural remedies for kidney disease, go to Natural Remedies Center: http://www.naturalremediescenter.com/treat/kidney/
Please note:
Any articles on this website are only for informational and research purposes. You should first consult your physician before taking any natural remedies, health supplements, herbal medicines, food therapies or alternative cures discussed here for your health treatment. [More about
Terms of Use
...]