Elecampane Tincture is a traditional European worm remedy used for expelling worms and parasites from the intestines, such as hookworm, roundworm, threadworm and whipworm.
Elecampane contains a chemical compound called alantolactone, which has been used as an anthelmintic in the treatment of intestinal parasites, including roundworm, threadworm, hookworm and whipworm infestation.
How to Make Elecampane Tincture
Ingredients: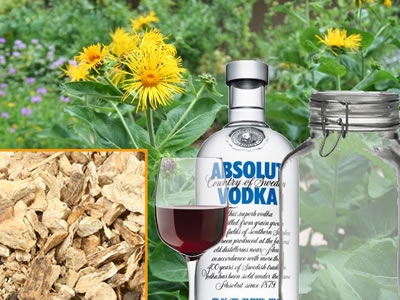 – Dried elecampane root 100g (or fresh root 200g)
– Grain Alcohol 35%-85% (Vodka or other brands) 250ml
– Red Wine 750ml
– Sugar 50g
Preparation:
– Put elecampane root and alcohol in a large jar
– Leave for 2 weeks, then add red wine and sugar and leave for 4 more weeks
– Then filter the tincture and store in bottles
Tips of How to speed the process:
– Ground the root into a powder or chop it into small pieces
– Shake the jar daily
– Put the jar in a warm place (in the sun or close to heat outlet in winter)
Use and Dose:
– The tincture has anthelmintic, expectorant, digestive, antitussive and stimulant properties
– It can be used to help treat worms, also relieve coughs, indigestion and constipation
– Drink 20-30ml prior to meals, 3 times a day for 3 days
– Then take a break for a week and continue another course of treatment if needed
Warning:
– Do not take this tincture if you suffer from ulcer, diarrhea, or are pregnant
– Consult your doctor before using this elecampane tincture
Read more information about natural remedies for parasites.
Please note:
Any articles on this website are only for informational and research purposes. You should first consult your physician before taking any natural remedies, health supplements, herbal medicines, food therapies or alternative cures discussed here for your health treatment. [More about
Terms of Use
...]